For more than 30 years, Project Helping Hand (PHH) has been able to help keep the lights on for members in need. PHH is a voluntary member contribution program, which provides limited funding – payable through community agencies throughout the co-op's service territory – to those who need help paying their electric bills, i.e., senior citizens, military veterans, the disabled or members struggling to make ends meet. The program is an extension of Cooperative Principle 7: Concern for Community.
Average number of consumer-members assisted per year: 350
Number of members who donate through the Round Up program: 5,000
Approximate amount collected annually from Round Up, designated Ownership Rewards checks and employee donations: $40,000
Amount the co-op distributes annually from PHH: $75,000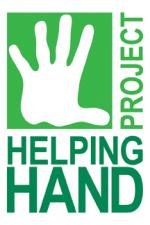 PHH provides once a year assistance to Adams Electric consumer-members for utility shut-off protection.
Participants may join any time during the year by contacting the cooperative. Likewise, a member may cancel participation whenever they wish.
Through Round Up, if a members' electric bill totals $85.36, they would be billed $86. The bill would then note a 64-cent Round Up contribution to PHH.
For tax purposes, annual donations to PHH, made through a members' electric bill are noted on the January bills each year. The total is for the previous year.
Register for Round Up and the co-op will round your utility bill to the next dollar each month.
Register for Round Up Plus and the co-op will round your utility bill to the next dollar and add an additional $1 (or designated amount) to your bill each month.
Log on to your electric billing account thru the SmartHub (bill view/bill pay) portal and opt-in to the Round Up program. Sign me up for monthly donations from my electric bill!
Make a direct donation by sending a personal check or returning your Ownership Rewards check to PHH each year.
Make a direct donation online through our third-party vendor, the Adams County Community Foundation. Click on the "Donate Now" button. (Please indicate Project Helping Hand in the fund name when making your donation – it will show up on the confirmation page)
To receive help from Adams Electric's PHH program, call Adams Electric at 800-726-2324 during regular business hours. You will be directed to the agency nearest your service location that administers the funds for the co-op.
Pay 25 percent of your past-due balance.
Make satisfactory payment arrangements for any unpaid bill amount.
Enroll in Round Up.
*District Office Hours: Monday-Thursday, 7 a.m.-5 p.m.
Provide proof of your past due balance.
Pay 25 percent of your outstanding bill.
Provide documentation of income and other information requested by the agency.
If agency provided, make note of the authorization number you are given.
*Agency requirements may vary.
Note: Project Helping Hand donations directly help qualifying Adams Electric Cooperative members who are struggling to pay their electric bills. PHH is a fund of the Adams County Community Foundation and your donation is tax deductible to the extent allowed by law. Please check with your tax adviser on deductibility. Donors will receive acknowledgement of gifts over $10 via a letter from the Adams County Community Foundation, which helps administer the co-op's PHH program. The official registration and financial information of Adams County Community Foundation may be obtained from the Pennsylvania Department of State by calling toll-free, 800/732-0999. Registration does not imply endorsement.