To begin or discontinue service with Adams Electric, please stop by a district office during office hours (with a scheduled appointment), between 7 a.m. - 5 p.m. Monday-Thursday. You may also call 800-726-2324. Although someone is always available to take your call, the best time to call is between the hours of 7 a.m. and 5 p.m. Monday-Thursday (except for major holidays).
Gettysburg District Office, 1338 Biglerville Road, Gettysburg, PA 17325-1055
Shippensburg District Office, 10 Duncan Road, Shippensburg, PA 17257
York District Office, 200 Trinity Road, York, PA 17408
For emergency service, call toll-free 800/726-2324.
You become a member of Adams Electric based upon where you live or where your business is located. In south-central Pennsylvania, you either live or work in an area served by Adams Electric or a neighboring investor-owned utility.
Electric utilities in Pennsylvania are mandated by law to serve specific service territories. This prevents undue replication of service and helps the utilities make the most efficient use of their resources.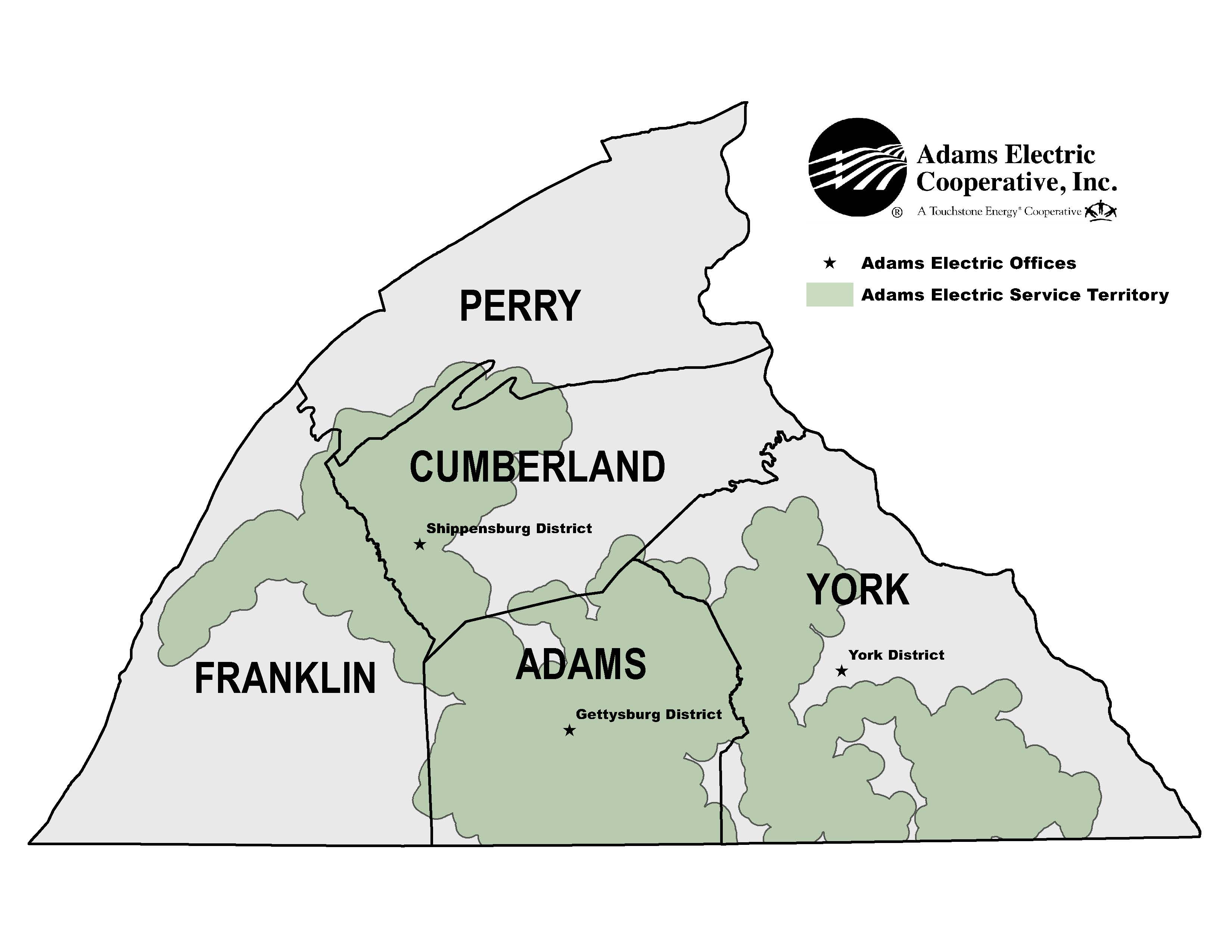 If you are new to the area or planning to move to a new location and want to find out if you will receive service from Adams Electric, call 800-726-2324. While someone is always available at that number, the best time to call is between the hours of 7 a.m. and 5 p.m. Monday-Thursday.
To become a member, you will be asked to complete a membership application and pay a membership fee. The fee is required because Adams Electric is a nonprofit electric distribution cooperative that is owned by its member. As a member, you are actually part-owner of a nonprofit electric utility. Cooperatives are democratically controlled by their members who elect directors to oversee the co-op's policies and operations. When you receive your application, any service connection fees or security deposits will be discussed with you.
When you sign up for service, you will be given an owner's manual that explains how to read your meter, details of your electric bill and what to do in case of a power interruption. The products and services offered through the co-op are outlined in the manual along with a set of member promises and member responsibilities. View New Member Packet.